Your Wine Personality Is: Life Of The Party
You can't help it: every day is another reason to celebrate!
Glitter is your favorite color and you rarely go to bed before last call. You fill your world with energizing music, friends, and fun; your closet is filled with color and sparkle, you can usually be found popping bottles at fabulous rooftop bars or sultry subterranean lounges. You are always on the guest list and roll VIP-style wherever you go. You have a natural light about you that people are drawn to and you love to share your light with others... you have a gift for bringing people together and are a fantastic hostess. Entertaining comes naturally to you and you always have the most creative and fabulous party ideas!
You love wines that are festive: your favorite is anything sparkling but you also get into zippy whites, flirty rosés, and light sassy reds.
We have 10 specially customized, sommelier-curated wine recommendations especially for our fabulous party girls (ps- shop them at the links!):
Sparkling Wine: Taittinger Nocturne Rosé, $109
Taittinger dedicates its new glittering, luminescent Nocturne Rose bottle to all occasions when celebrations continue into the night. Taittinger Nocturne Rose is a "Sec" champagne composed of Chardonnay (30%) and Pinot Noir and Pinot Meunier (70%). The color is a bright, intense, flamboyant pink, and the full-bodied nose reveals delicious aromas of patisserie. On the palate the attack is clean and generous, while remaining very fresh.
Light-Bodied White Wine: Clos des Lunes Lune d'Argent 2015, $19.99
This Bordeaux Blanc blend (70% Semillon, 30% Sauvignon Blanc) has a lively citrus nose, coated with sweet aromas of acacia and lime. The rich pulpy flesh of ripe Semillon gives a delicious mineral complexity; while the acidity of Sauvignon provides a good tension. A fresh, floral style, with a honeysuckle note leading the way, followed by chamomile, quinine and white peach flavors. Offers a long, pure finish.
Full-Bodied White Wine: Jean-Noel Gagnard Bourgogne Blanc Hautes Cotes de Beaune Sous Eguisons 2015, $32.99
This Chardonnay from the village of Chassagne-Montrachet in Burgundy's Cote d'Or has a bright citrusy nose and an energetic palate underpinned with mineral. In 1989, Jean-Noel's daughter Caroline Lestime took over. She has poured great energy into viticulture that respects the Domaine's diverse terroirs and into winemaking practices that express them faithfully.
Aromatic White Wine: Vietti, Roero Arneis 2017, $24.99
This Arneis comes from the Roero appellation of Piedmont, Italy. Here the Currado family carefully and patiently handcrafts lauded wines that are the result of a unique combination of sun and soil. Luca's focus on terroir is reflected in his careful cultivation and organic farming of more than 25 single vineyards. The classic Roero Arneis wine is dry and crisp, with blossom-like aromas complemented by flavors of fresh pear and apricot and a nuance of hazelnut.
Rosé Wine: L'opale De La Presqu'ile De St. Tropez Rose 2016, $14.97
A beautiful, lively blend of 50% Grenache, 30% Cinsault, 20% Carignan from St.Tropez in Provence, France. The lovely fresh fruit, floral and spice notes and perfect minerality of this Rosé pairs gorgeously with grilled shrimp, roast pork, fish, and light summer salads--- its nose of spring wildflowers and light citrus flavor makes it a nice apertif to enjoy poolside.
Orange Wine: Attems Ramato Pinot Grigio 2016, $16.99
A special vinification practice led to the use of this term "ramato," or coppery: the must remains in contact with the skins for 24 hours and this practice gives the wine a very distinctive copper hue. Medium-bodied, vibrant and juicy on the palate, with a supple texture and a classically dry finish, drink it over the coming year.
Light-Bodied Red Wine: Anne Sophie Dubois Fleurie L'alchimiste 2014, $23
This 'Fleurie' wine is better known as Beaujolais: a wine of such warmth, friendliness, and heart that has often been misunderstood, as low-quality 'Beaujolais Nouveau' has flooded supermarket shelves. If you have never tried Fleurie, this bottle is an excellent place to start! Anne-Sophie Dubois is a young female winemaker, blazing a trail of thoughtful, elegant wines that are nuanced and complex while still being light and easy-drinking -- a hallmark of Beaujolais! Try it slightly chilled.
Medium-Bodied Red Wine: Achaval-ferrer Quimera Red Blend 2013, $25.97
This harmonious red blend from Mendoza, Argentina combines 50% Malbec, 24% Cabernet Franc, 8% Cabernet Sauvignon, 2% Petit Verdot in a juicy, fruity, delicious red that's perfect as a pairing with steak or even pizza. Floral aromas with blackberry, blueberry and cassis. are, well-integrated with flavors of crushed blackberry, licorice and bitter chocolate.
Full-Bodied Red Wine: Laely Cabernet Sauvignon 2012, $34.99
This decadent but elegant California Cabernet is made from hand-harvested, hand-sorted fruit from Napa Valley--- the heart and soul of Northern California's wine country. Cassis anchors the aroma followed by both ripe and dried cherries with some pencil lead scents, and subtle cigar box notes. The palate is very supple and ripe with cherry vanilla, sweet black cherry, leather and light allspice, with a long finish.
Dessert Wine: Patrick Bottex 'Rosé La Cueille', Bugey Cerdon, $19
This is a fizzy, fruity, and delightful sparkling rosé wine that is slightly sweet. Bugey is a tiny French commune halfway between Lyon and Geneva, and that's where they craft this flirtatious blend of Gamay (which is best known as the grape of Beaujolais) and a varietal native to the region called Poulsard. It's typically low in alcohol, just right for brunch, with wild strawberry flavors that are juicy and fun, and it shows plenty of festive effervescence in the glass.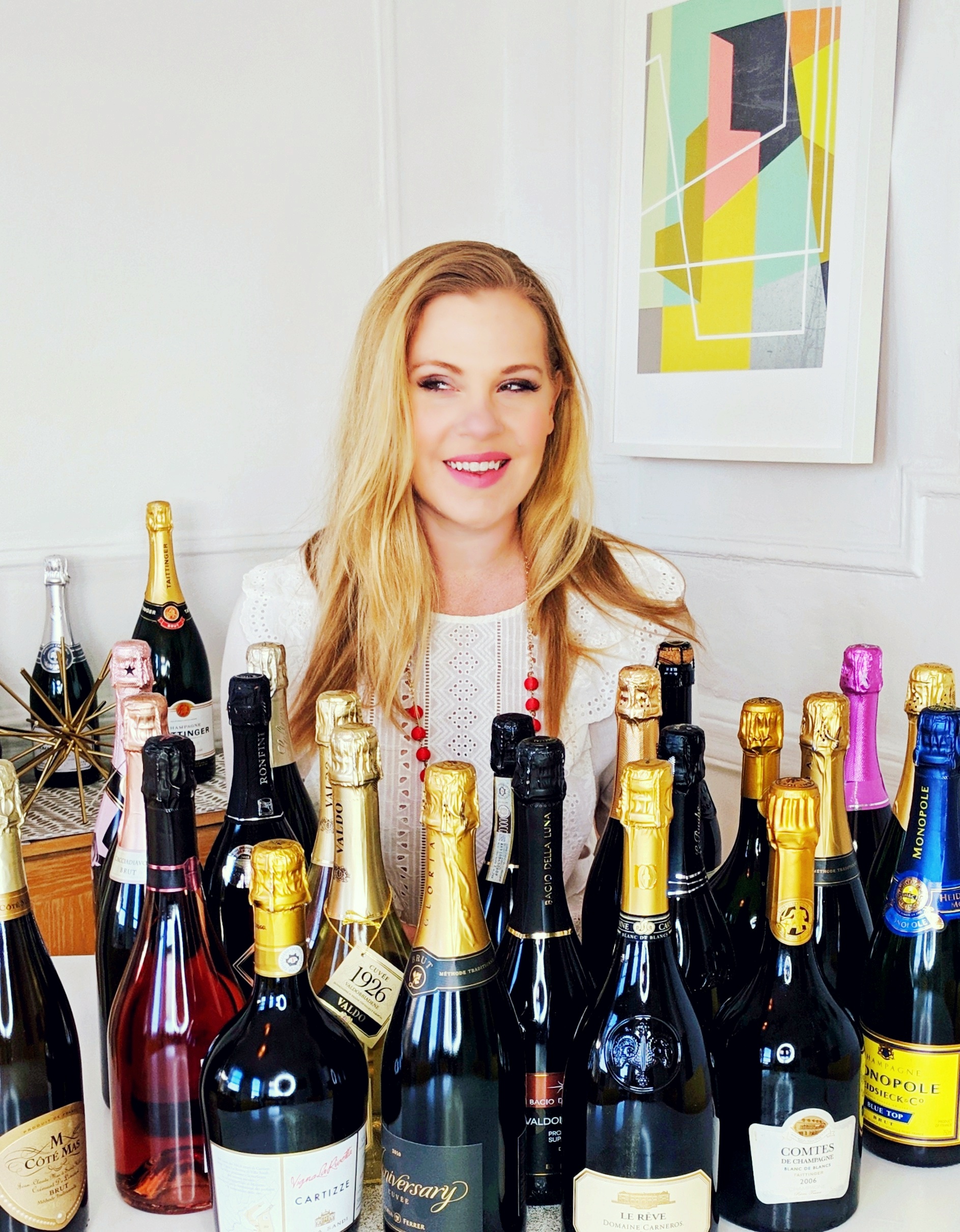 Before we go any further, let me introduce myself: I'm Sarah, the founder of The Lush Life, and I'm a sommelier, wine educator, and event consultant based in Brooklyn. I'm almost always in the mood for Beyoncé and almost always in the mood for Champagne. I believe that opening a bottle of wine is the cheapest and quickest way to travel the world without leaving your sofa, and that life is way too short not to drink wines that you absolutely love!
If you ever wished you had a cool sommelier friend to help you navigate the complex world of wine, you're in the right place.
I'm so glad you're here! Some articles to get you started are below... cheers!